Just a quick how-to for anyone who has Supernotes on KDE Menu and as a quick launch icon (I am running Fedora but will work with KDE on any distro).
Supernotes runs great, however as an appimage it means I need to go and launch the file from my local filesystem each morning and I want it to be as a quick launch icon and in my menu bar.
Press Super Key or Launch the KDE Menu
Search for kmenuedit and launch it (Called Menu Editor on the GUI)
On the left select the category you want to add to (I Selected Office)
Click New Item along the top menu
Enter a name (I selected Supernotes)
Select the Icon by pressing the large grey square and navigating to an icon you wish to use (I hope the team don't mind but I grabbed the Pink SN logo from twitter and converted it to an ico to use as I quite like it)
In the Command type in the path to the app e.g. /home/bmccaffe/AppImage/Supernotes/Supernotes-2.1.2.AppImage
Click Save in the top menu
The first time you launch it from the menu you can then right-click on it and select Pin to Task Manager.
I hope this helps someone else in the future.
Screenshot of setup: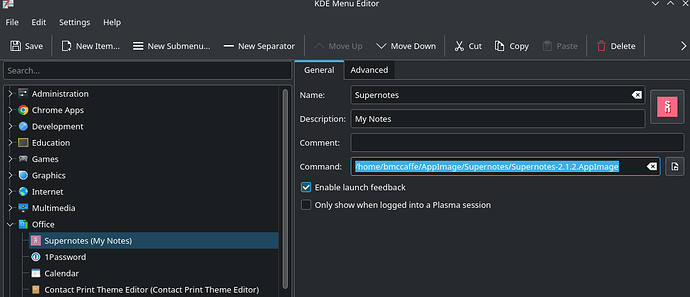 Looking good down my menu bar now, along with Obsidian as I transfer over my notes


Brian.