Friends, I'm new to Supernotes and I am very impressed. I've been hacking on different use cases, and I wanted to reach out to see whether you think I've organised the following in a sub-optimal fashion, and / or perhaps there's something I'm misunderstanding about parents, children, and shared cards.
I've taken a run at building a personal Star Wars canon wiki. (You're just going to have to look past the deep nerdery of this OK?) I made my index card — 'Star Wars Canon Media' — with all the individual items in it; they're in checklist format so that I can see at a glance which I've re-visited and made notes on. Individual entries on that list then link to their own cards, with the notes on that particular item.
So far, so good. Next I wanted to add some organisational structure:
I applied tags to each card, so filters allow me to drill down;
I separated each section of the index card into its own card and made those six cards children of the index.
That gives me an outline in the Tree that I'm happy with; it looks like this: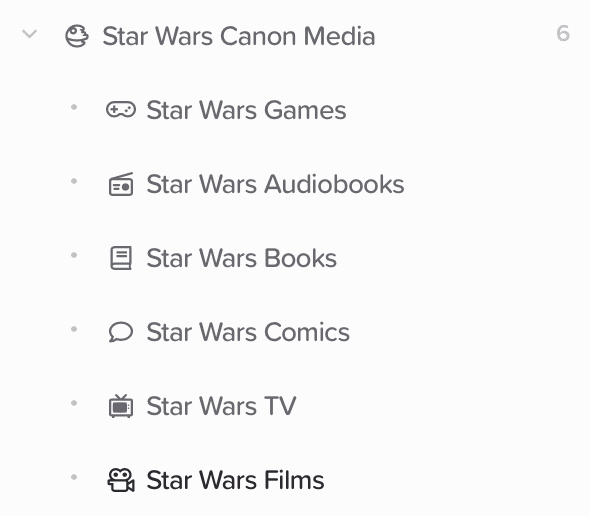 However (and this is where we finally come to my two questions), I hit a couple of snags:
I realised that any changes I make to the index card would have to be made separately to the corresponding child in order to keep them in line. (eg. If I tick a book off in the 'Star Wars Canon Media' parent card, I also have to go tick it in the 'Star Wars Books' child card.) Do you think this speaks to a fundamental misunderstanding on my part of the parent / child system? Am I a dingus?

After making each card in the stack 'Publicly Viewable', I thought that someone who navigated to the index card would be able to click the links within it to view the other (publicly viewable) cards. That doesn't appear to be the case (clicking a link routes to the sign-in page). Again, is this a case of me misunderstanding how the sharing system should be used?
Thanks so much for taking the time to read all this, and for any help or ideas!