Hello, all!
I really want to fully transition to Supernotes. I really, really do.
…but there's a barrier to that, in that I find it really hard to use Supernotes as a notes tool, and it's actually just one simple thing. On the left-hand menu, I expect to click on a Category and have whatever I click to appear in the Notesboard, however, I get this weird intermediary screen, containing the parent card, if I bothered to create one…which is really frustrating.
If, every time you opened a door, a big plastic hand came down from the frame and said "Do you really want to open this door?" - You'd probably open a lot fewer doors… And would probably just go back to using Nuclino or Roam, or whatever other door opens first time, with one click…
I expect a flow with the red dots…But instead, I get black (the aforementioned plastic-hand of pain)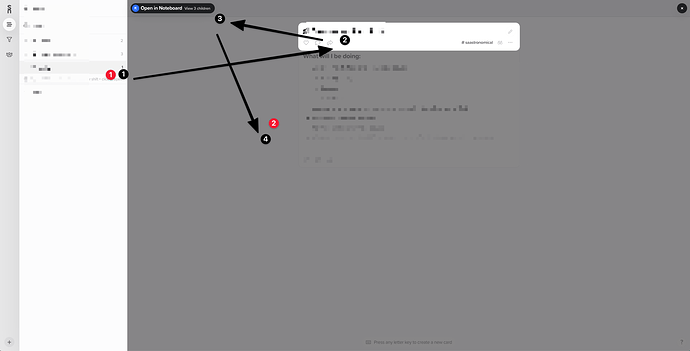 …And I know that you can double click - But I would argue that it would be better to switch the clicking behaviour, where a single click - takes you to where you want to be (i.e. the list of notes you've just tried to click on)…and double click opens up the parent page
Adding this up - It looks like this:
Expected number of clicks: 1
Actual number of clicks: 5
It's really hard to get my head around, because, when I'm in a browser, I don't default to a double click for a primary action, which I would argue - clicking on a menu to see child cards, is.
The UX on the cards section is close to perfect! The menu, though, is what is making SN unusable for me, so here I am on a message board, complaining…Because what else can one do?