Handy for keeping up to date with the news.
Interesting. We didn't realise that many users still use RSS, will look into this! For the meantime, if you follow our twitter we post most regularly over there, including status updates.
https://supernotes.app/rss.xml
All that's left is to write some more blog posts

(P.S. RSS feed is only for the blog at the moment)
That was quick.

Thank you, works great.
Heya,
I came here looking for an RSS feed for the changelog but I'll take the blog RSS feed too!
One bit of feedback is that it seems the blog RSS feed doesn't include dates so the posts all render as being published whenever you add them to your RSS reader
It'd be nice if we can still get the changelog RSS feed too although I realise it appears to be a custom page backed by a yaml file rather than a traditional series of blog posts so not so quick of a win.
That said, it seems like Gatsby should be able to support transforming yaml into an RSS feed via a graphql query without too much spaghetti?

On a slightly related topic, any chance of getting the status page RSS functionality enabled? I don't expect there to be any troubles of course but as an SRE I tend to subscribe to status pages in my RSS reader too

Hi @utf9k,
Thanks for the feedback regarding the RSS feed for the blog, dates should be there – will fix!
This forum actually auto-generates RSS feeds for the different categories, so we have decided to use that instead since we post both major and minor versions in the Announcements category, whereas the Changelog is only for major releases. Here's the link for the Announcements RSS feed – https://community.supernotes.app/c/announcements/5.rss
We will look into RSS for our status page as well!
Hey @tobias,
That works perfectly!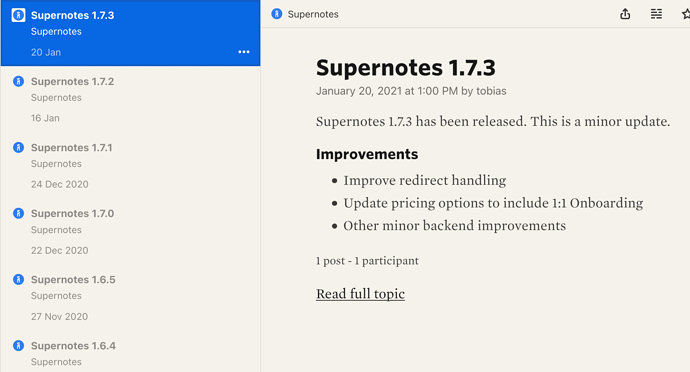 Thanks